Be Fall Ready.
It's that time of year when the kids are back to school, cottage days have come to an end and the leaves are starting to change. I love this time of year. Fall is a beautiful season. I also find it to be a great time to renew yourself. Along with this, I find renewing my business strategy and reviving my brand or structure.
Here are a few ways to prepare and be ready for the fall.

1. Advertising
Are you focusing on a form of advertising? Is it working? The fall is a good time to try something new. Vamp up that SEO or find someone who can do this effectively for you. Check out google ads, or facebook ads. Finding the right form of advertising for your industry is key.
2. Strategy
How has your last quater of business been? Are you profiting as much as you'd like? Do you need to reach out to a new customer base? Strategizing on how you are going to reach new clientele or customers is an important step. Now is a great time!
3. Networking
What has been your form of networking? If any. Is it working? Would it be a good time to check out a new networking group? Check out what is available in your local community.
4. Feedback
How are your relationships with your current clients? Have you lost any? Not getting as many referrals as you once did? Feedback can go a long way. Checking in with a trusted client can be beneficial. There may be room for improvement in areas that you never suspected!
5. Progress
Are you progressing in your business? Offering new services? Expanding your business is always beneifical and will work in your favour. Take a look at the last year or two. What's changed? is there anything else you can add on as a quality service?
6. Thank you
Life get's busy. It is easy to be so busy you forget to say thanks. I make this mistake often. Without my incredible clients I wouldn't be where I am today. I am always thankful for the amazing people I get to work with everyday!
7. Brand check-up
Are you feeling confident in your brand?  Does it need a face-lift? The fall can be a great time to refresh your brand or maybe even do a total re-brand. We beleive that a quality, timeless brand will always work in your favour and allow you to be at your businesses full potential. Not sure how you feel about your brand? Need a second opinion? We're here.
Happy Fall!
-Emily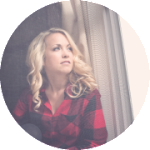 a graphic designer in Barrie, Ontario